We're faster than any other pottery company in America
Just ask our competitors.
You'll have your mugs in hand faster than you would with any other pottery company in America. With an average delivery time of 5-7 weeks on each order, we'll have your mugs to you in half the time our competitors would in some cases.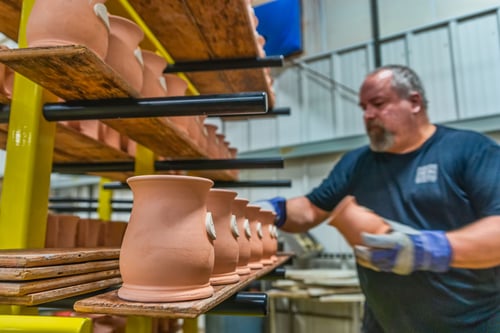 How do we do it?
Our efficiency is unmatched. We're hungry to find new ways to make our processes easier and faster so you can have handmade mugs or stoneware steins with your logo or other artwork on it in record time. In fact, we're so efficient that our customers can't stop talking about it—and neither will you.
It's not just magic, but it feels like it sometimes. Our pottery production facility uses state-of-the-art technology so each mug dries quicker than our competitors' products and with greater consistency.
Unlike other pottery, our handmade coffee mugs are not at the mercy of the weather outside. Whether it's a humid summer day or the dead of Wisconsin's coldest winter months, our pottery facility is always the same temperature and humidity, 365 days a year. We know exactly how long it takes our mugs to dry after they're thrown, every single time.
Priority in Production
Running on a tight deadline ahead of your event or product launch? By offering priority in production, you can have your mugs in hand even faster than you would normally. You'll have your mugs in a fraction of the time you'd have them at other potteries and they'll be ready ahead of any event you have on the calendar.
Interested in getting priority in production on your next order? Get a quote from our customer care team to get started.
Packaging
Our packaging plays a unique role in our shipping process. Unlike other potteries, we don't have to use packing peanuts to protect our stoneware, Styrofoam or otherwise—good news for the earth from which our products are sourced.
Instead we use customized cardboard packaging that is 100% recyclable and keeps your mugs stable and protected while they're on their way to you. Like a drink holder that you'd find at a fast food restaurant, the specially shaped cardboard grips the mugs in such a way that they'll be able to take every bump in the road without cracking or shattering.
Aside from protecting our mugs from the elements and gravity, this special packaging helps us get your mugs to you faster because it eliminates the steps of having to stuff them with packing paper or peanuts. It may not seem like much to not have to stuff each box with packing material, but when we're shipping hundreds of mugs each day, it adds up.
To learn more about how much it'll cost to ship your mugs to you, get a pricing quote from us. Our customer care team will be happy to help you decide which shipping options are best for you or your business.